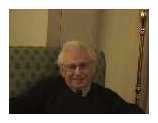 Frederick Jelinek was a Professor and Director of the Center for Language and Speech Processing in the Department of Electrical and Computer Engineering of Johns Hopkins University. He received his S.B., S.M., and Ph.D. degrees from the Massachusetts Institute of Technology. After his tenure as a Professor at Cornell University working on Information Theory, he joined the Research Division at IBM as head of the Continuous Speech Recognition Group which pioneered statistical methodologies for large vocabulary speech recognition. His interests included language modeling, machine translation, and related areas.
Additional information on Professor Jelinek can be found at:
http://www.clsp.jhu.edu/people/jelinek/
and at:
http://www.informatik.uni-trier.de/~ley/db/indices/a-tree/j/Jelinek:Frederick.html
An interview was conducted with Professor Jelinek at the IEEE ICASSP meeting in Philadelphia, PA, USA, March 18-23, 2005 by Dr. Janet Baker. The text of this interview has not yet been transcribed, but a brief excerpt of the recorded interview is available.
Brief excerpt of recorded interview.